Roles:
Graphic design, art direction, layout, photography, infographic design, marketing and advertising.
Tools:
Adobe Illustrator, Adobe Photoshop, Adobe Acrobat Pro and DC.

This construction timeline infographic is currently in progress. It was created with simplicity in mind. It's not intended to have tons of details packed into it. Ideally, community members or staff looking at this should be able to 1) see that a lot of work will be going on simultaneously and 2) get a general feel of when construction will be happening at their building. 
Each year is marked by a different palette color. The approximate length of each project (or bar) changes color as it goes into a new year. For example, Anoka High School's construction takes place in 2018, 2019 and 2020, so it has three different colored bars. There's also a light "start of the school year" marker within each year/block.
This infographic was part of a series of items prepared for the district's referendum campaign. I was asked to create an infographic out of a very text-heavy flier. There are some details included, but families, community members, etc. viewing this infographic should still be able to get the gist of the details at a glance (which would be: safety/security, space and maintaining quality schools). 
There are several versions of this infographic: one for the district and then one for each of the district's clusters. 

Each cluster is marked by a different palette color and appropriate icons to relay what's being planned at cluster schools should the voters approve the referendum. 
This infographic set was initially created to serve as posters during an event in which various district officials and board members meet with state representatives and legislators. It was designed to state a key message at the top, supplemented by a graphic or chart at the bottom. 
Each of the five posters/messages is marked by a different palette color. Each poster can also be sized down to print out when needed.
This growth and repurpose infographic
 was part of a series of items prepared for the district's referendum campaign. This was designed to show how the district's population is growing, but has shifted. It also outlines buildings that were closed and repurposed several years ago. 
A variety of charts regarding Anoka-Hennepin Schools enrollment counts, ethnicity, free/reduced lunch and English as a Second Language (ESL) figures. These charts are used in a variety of district publications, including School Board presentations.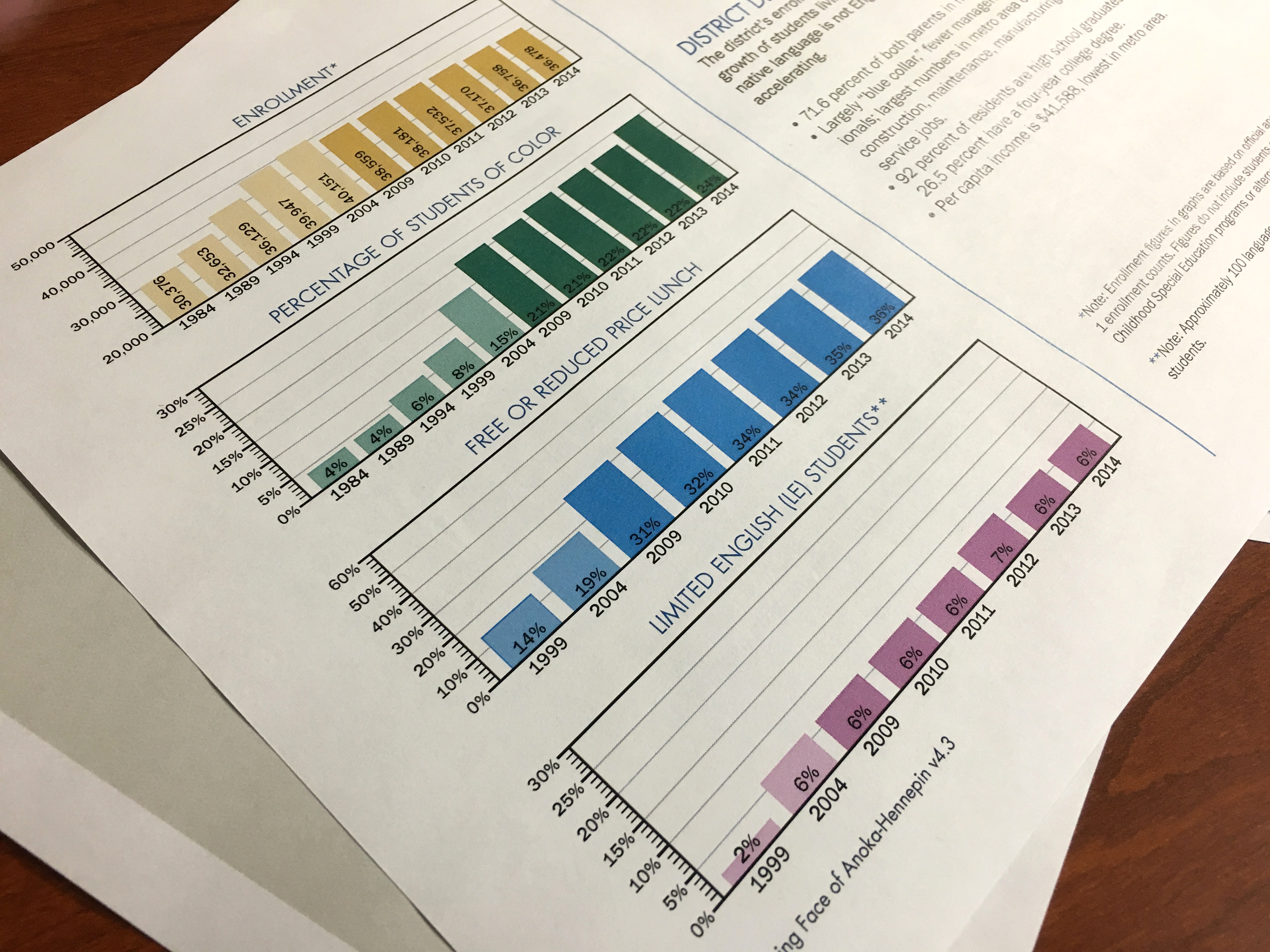 The district's goals for student achievement are showed in this circular infographic, which shows implementation modes and approximate timelines.
This infographic outlines how the Anoka-Hennepin School District's mission and core values work together for students. 
This evolving infographic outlines strategic priorities for Anoka-Hennepin's School Board and district administration.
This infographic shows what Anoka-Hennepin School District elementary school students are saying about their experiences with bullying and harassment.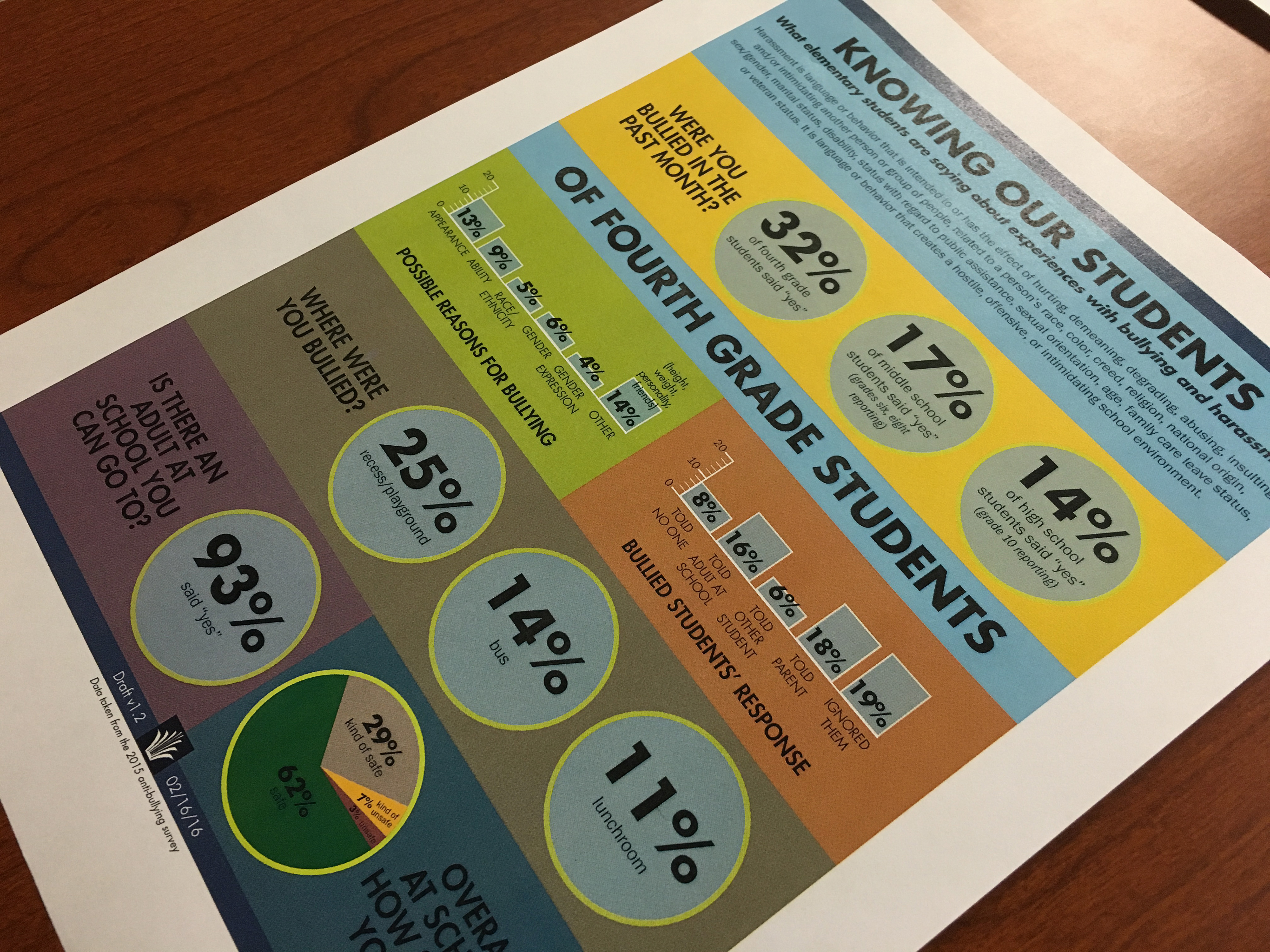 This infographic was created to show the fine line school districts in Minnesota walk in terms of receiving adequate funding from the state legislature. 
This infographic template is currently in progress, but will eventually be used by the Anoka-Hennepin Educational Foundation to show what types of program, events, etc. are funded via donations.